One of the seven cooperative principles is economic participation. As a member of the cooperative, you have the benefit of the return of patronage capital, or profit.  Capital credits reflect your ownership in the cooperative.  Your cooperative has returned over 8 million dollars in patronage capital checks to its members throughout the years. 
As you pay your energy, we utilize the revenue to grow, operate, and maintain a safe and reliable system.  Any money that is earned over and above these costs of doing business is called margins.  Your portion of allocated margins is then returned to you in the form of capital credits.  Every member gets a "piece of the pie."  
See below for more information on how the capital credit process works and we may be looking for you!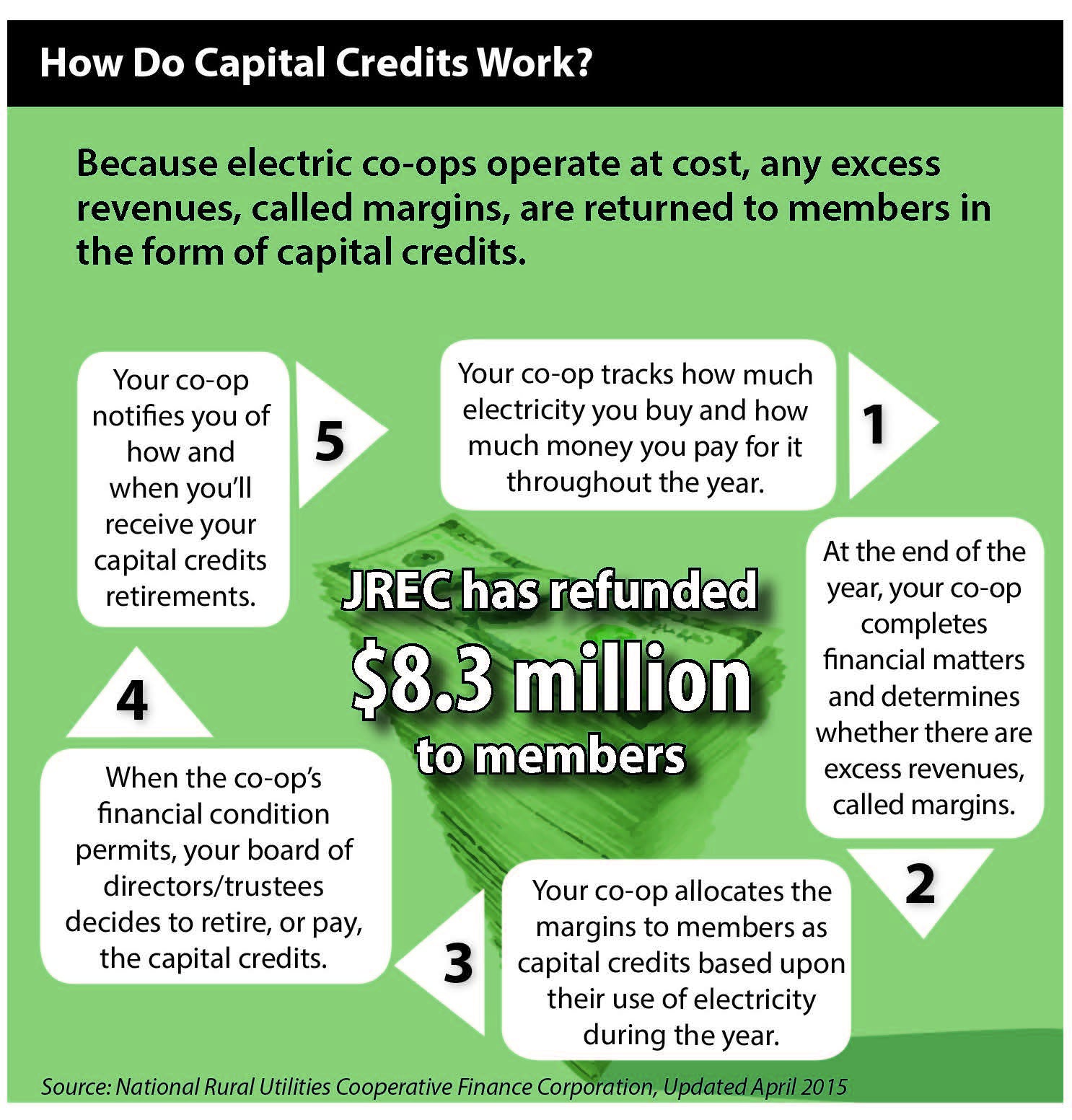 2019 Retirement
The JREC board has reviewed the financials for 2019 and determined how to best retire capital credits.  The board approved retiring 100 percent of any capital credits allocated in 1989 and 1.5 percent of all capital credits allocated in the years 1990-2018.  The total capital credit retirement for 2019 is over $384,000.  These capital credits will be applied to energy bills mailed in November 2019.  Inactive members who have a retirement of $10 or greater will be mailed a check in December.  
Capital Credit Account Reminders
If you move off JREC service lines, please be sure to contact our office with your new address so we can continue to send capital credit retirements you are eligible to receive in the future.
We may be lking for you!
NOTICE OF FORFEITURE OF FUNDS HELD BY JUMP RIVER ELECTRIC COOPERATIVE, INC., UNLESS CLAIMED BY OWNER
Jump River Electric Cooperative has several members who have not cashed their capital credit checks that were paid out in 2016 and are listed here: Name List.  Pursuant to the Wisconsin Statutes Section 185.03 (10), you are hereby notified that Jump River Electric Cooperative Inc., of Ladysmith, WI 54848, has in its possession unclaimed funds that may belong to you.  If so, you can claim these funds by contacting the Cooperative and furnishing proof of your legal interest in such funds on or before September 30, 2020.  You are further notified that unless you do claim such funds and provide satisfactory evidence of your right to receive the same by September 30, 2020, these funds will automatically be forfeited and transferred to the Wisconsin Federated Youth Foundation for educational and charitable purposes.  
UNCLAIMED CAPITAL CREDIT CHECKS ISSUED IN 2017
The following is the list of members who have not cashed their capital credit checks that were paid out in 2017: Name List. 
If your name appears in either list, please contact us.  If you know someone on the list, please contact us only if you know their current address. You can reach us at 715-532-5524 or email us at jrec@jrec.com. In cases where the person is deceased, please call us if you know the contact information for a relative or benefactor who may have rightful claim to the capital credits. Any unclaimed checks will revert to the Wisconsin Federated Youth Foundation, Inc. The Foundation is a charitable tax-exempt trust established by the Wisconsin Electric Cooperative Association for educational purposes.